Are you fond of playing Blackjack? If yes, then you probably opt to know the secrets on how to beat the dealer. You may also want to check how professional players win each game. Since you are reading this article, it means that you are searching for answers on how to win at Blackjack.
In any casino game, a player is fighting the house edge. There are also some ways to secure the chance of winning the game and boost your bankroll. As expected, you can make a neat profit if the right cards roll your way.
Top Ways on How to Increase Your Bankroll at Blackjack
Boosting your bankroll at Blackjack may seem easy. But for newbies, this is quite hard. For your guide, here are the top ways to boost your bankroll at Blackjack:
1. Look for a table where the stakes fit your bankroll needs — This is quite hard, especially if you have smaller bankrolls. However, if you carry out the needed research about the casino you are planning to play at, it is easy for you to determine its minimum stakes. There are some casinos that give away free games, especially during their off-peak hours. To check these casinos, you just have to find the right one with the best Blackjack game for you.
2. Split Aces and Eights — Are you familiar with the Blackjack cheat sheet? Then, you are aware that it is always recommended splitting aces and eights. It may appear a bad move for some, but it is still the best way to win and make instant money.

3. Dealer stands on Soft 17 — Most casinos instruct the dealer to hit on soft 17. If you come across a casino where the dealer is told to stand on soft 17, it may be in your best interest to sit down and play a few hands. This policy cuts the house edge expressively and increases the chances of you winning the hand.
4. Stand if you have a weak hand — In case the dealer has a face-up card of six, five, or four, it is best to stand.
5. Choose a table that provides the double-down selection — There is also another way to help you limit the house edge. There are some casinos that offer you to double down with a ten or eleven. Others also allow you to double down on any two cards you prefer. As advised, see to it that you have an excellent strategy to limit the house edge.
6. Make a Perfect Strategy — Having an ideal strategy can help you save your bankroll. It can also reinforce you into playing more professionally and eventually save you from making expensive mistakes.
7. Set your limits — As a player, always set the amount of cash you are willing to gamble. You have to stick to your decision no matter what happens. If you are losing the game, don't go and chase your money. If you do, you will end up playing over and over again. There is also a huge chance of getting more losses.
Above all, you need to have a betting tactic in place to ensure that you boost the chances of leaving the casino with more wins. Most players often use betting systems. These are usually based on mathematical progressions that assist you in recovering any losses while ensuring that you will make a huge profit.
In addition, one of the smart decisions is to bet the same amount for every hand, especially if you are a newbie. But, once you begin to learn how to deal with multiple hands, it is best to modify your betting patterns. As a player, you have to know the result of your previous hand if you have the size of your bet in Blackjack. You also need to change your bet size to get the winning steaks and subtract your losses if you are losing the game.
Whether you opt to be a conservative or aggressive player, it is extremely up to you. Just make sure that you always consider your moves. Think about a specific strategy to win the game. Don't let your emotions control you.
Dos and Don'ts for First-Time Blackjack Players
As a newbie, you have to conduct a lot of research to win the game. You also need to know the right strategy to get more wins. For your guide, here are the dos and don'ts you need to consider:
Do's
• Choose a low minimum bet game. Since you are a newbie, you don't have to be shy. There are some newbies that are quite ashamed, especially when they are told that they are newbies. An ideal dealer will assist you in learning to play the game. They also want you to win, and they may also suggest making your game more exciting and lucrative.
• Tip your dealer during the game. Just like waiters or bartenders, your dealers get most of their money from the tips that they earn on every game. Depending on your choice, you can either bet for the dealer by putting a chip on the table or just hand a toke to the dealer anytime you want. In addition, this scheme is good Blackjack etiquette, and therefore you should follow it.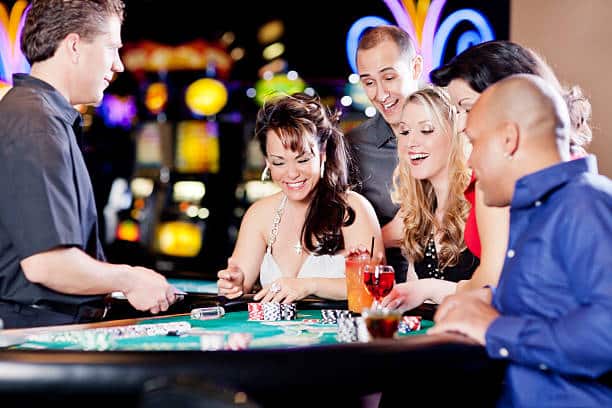 • Whether you are a newbie or not, you have to set a goal. It means that you should know when to stop and when to play. Say, for instance, you may say to yourself that you may stop playing once you double your original buy-in.
• Blackjack is a social game, and therefore you have to introduce yourself to others before the start of the game. This is observed especially when you want to join at the Blackjack table.
• Take note that Blackjack is a fun game. Go around and enjoy.
Don'ts
• Don't allow other players to control you during the game. Every player should play on their own hand. Never permit others to intimidate you.
• Don't gamble, especially when you can't afford to lose. As a tip, always set a budget in every game. If you are tired of playing, then you can roam around and enjoy other amenities at the casinos. Just like others, you may enjoy shops, restaurants, spas, salons, and many more.
• Electronic devices are not allowed on any live game table. The typical examples of these are cellphones, mini laptops, tablets, and the like. Never place your stuff on the playing table like sweaters, hats, or coats.
Apart from knowing its strategies and tips, it is always best to know when to surrender. This is an option that allows you to give up your hand to forfeit half of your original bet after the dealer examines if you have Blackjack. When you decide to surrender, the dealer collects one-half of your original bet. It means that the round is over. Other players also use the so-called "early surrender." This allows them to give up their hand before the dealer checks if they have a Blackjack.
Playing Blackjack for some is quite a simple one. If you think that you are not good at this game, you have to explore first. The best key to beating the dealer or winning the game is to have constant practice. Try first the game at home with your colleagues and study each move. Through constant practice and familiarization with every technique, you will soon be called a Blackjack master.